How to keep your airplane in control under all conditions: Learn Upset Prevention & Recovery Training (UPRT) academics.
Developed specifically for airlines to teach pilots and instructors current industry knowledge and best practices, including:
Contributing factors of Loss of Control in Flight
Flight fundamentals, including aerodynamics, stall prevention, high-altitude operations
Airmanship
Example training programs and exercises
How to properly use simulators to conduct UPRT
Includes several short videos and high-quality graphics to support concise text. Quizzes per chapter and final exam.
Installation
NOTE: Before you install the Skypointer application on your iPad, please ensure that your iPad does not display desktop versions as your standard browsing function. To check this, please go to your iPad settings, scroll down in the left menu list and open the tab "Safari". In the right menu, scroll down to the block "Settings for Websites" and select "Request Desktop Website". Ensure that the option "All Websites" is switched off.
After successful installation of Skypointer, you can reset the "Request Desktop Website" option in your iPad settings as you wish.
The Skypointer UPRT app is available from the Apple App Store. You need to be invited in order to fully install the app on your iPad.
Compatibility
NOTE: As of January 2022, Skypointer requires iOS version 13.0 or newer installed on your iPad. The list of compatible iPad models is as follows:
12.9-inch iPad Pro 3rd generation (2018 model)
12.9-inch iPad Pro 2nd generation
12.9-inch iPad Pro 1st generation
11-inch iPad Pro (2018 model)
10.5-inch iPad Pro
9.7-inch iPad Pro
iPad 6th generation (2018 model)
iPad 5th generation (2017 model)
iPad Air 3 (2019 model)
iPad Air 2
iPad mini 5 (2019 model)
iPad mini 4
Please check in your iPad Settings under "About" what iPad model you have and what current IOS software version is running on your device. If you have a compatible device but it is running IOS 12 or older, please update your IOS version under "Software Update".
Get Started
To start using Skypointer, please download the Skypointer application by International Development of Technology B.V. from the iPad App Store. Simply open the App Store from your iPad, and search for "Skypointer".
Select download. When the download is completed, the Skypointer icon will be added to your iPad screen. Tap on the icon to open the application. You will now see the app opening screen.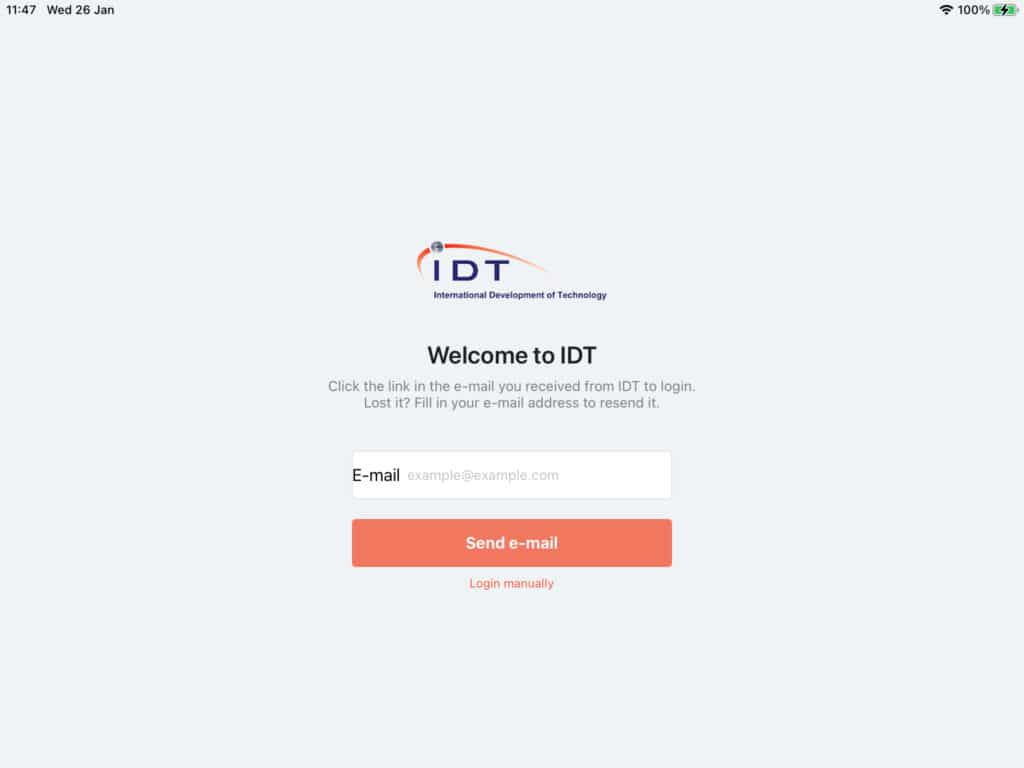 When you have been registered by your company, you will receive an invitation email from apps@uprt.aero. If you did not receive the email, please check your spam folder. You can request a new invitation email by filling in your email address in the email entry field and press "Send e-mail". If your email address has been registered, you will receive a new invitation. If you still do not receive an invitation email, please contact your airline administrator or training manager.
Select and copy your unique token (at the very bottom of the email).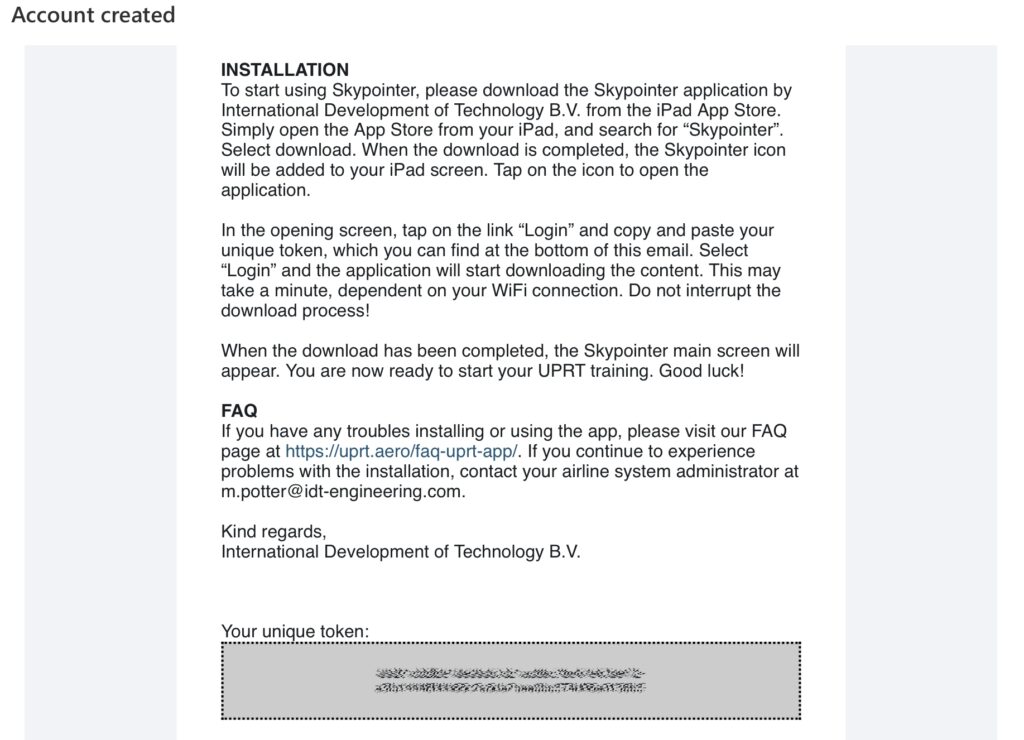 Now go back to the app opening screen and click the link "Login manually" just below the "Send e-mail" button. This will open a separate form. Paste your unique token in the form and select "Login".
Please note: when you paste the token into the entry field, please ensure that there are NO EMPTY SPACES before or at the end of the token. If your browser puts an empty space behind the token, use backspace to delete it.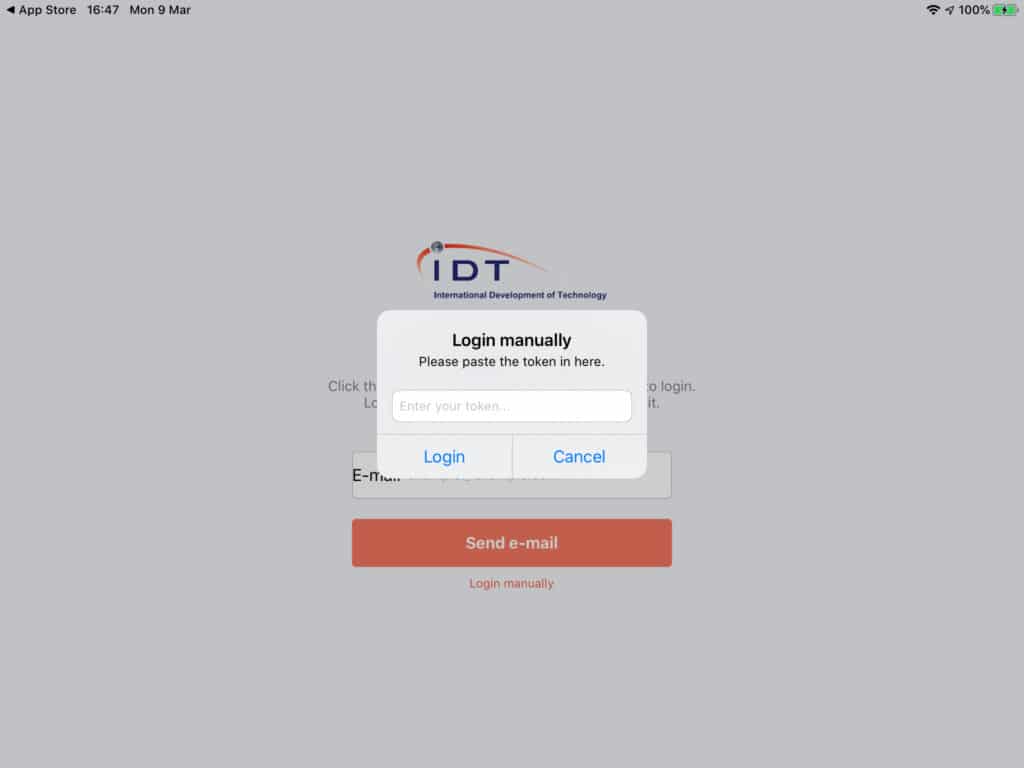 The app will ask if you wish to update the content now or later. Click "Update Now" to continue.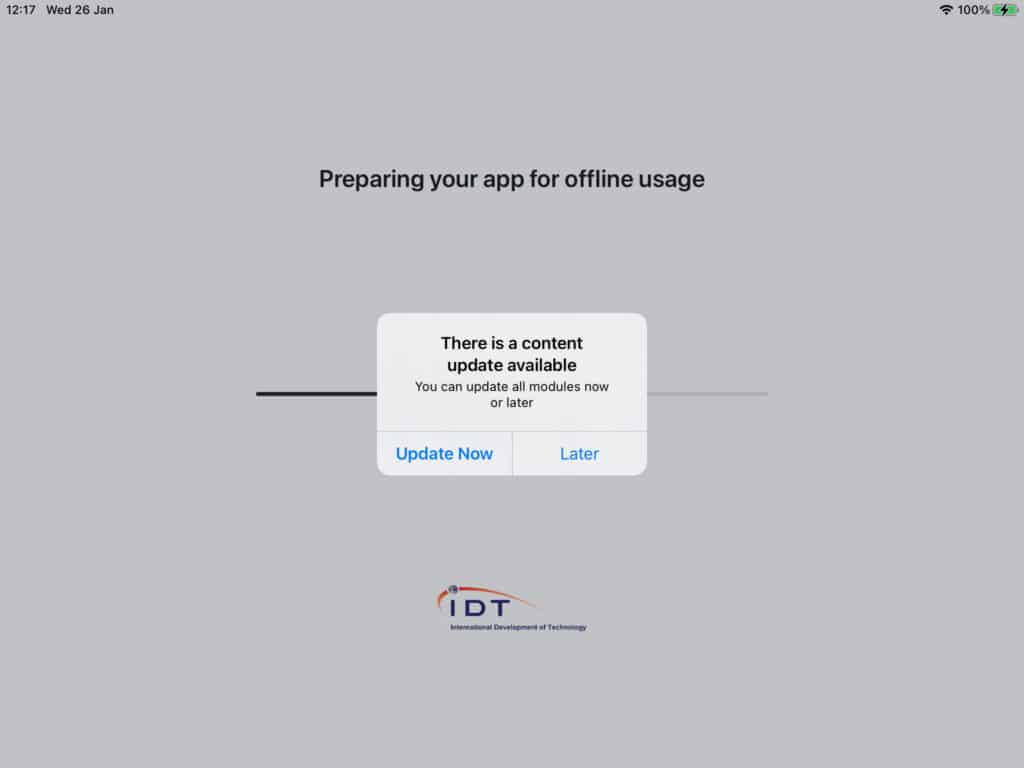 Download time may take a few minutes and is dependent on your WiFi connection. We recommend that you download the full content only when high speed WiFi is available. If you have no immediate access to high-speed WiFi, you can choose 'update later'. On the app main page you can select which modules to update individually.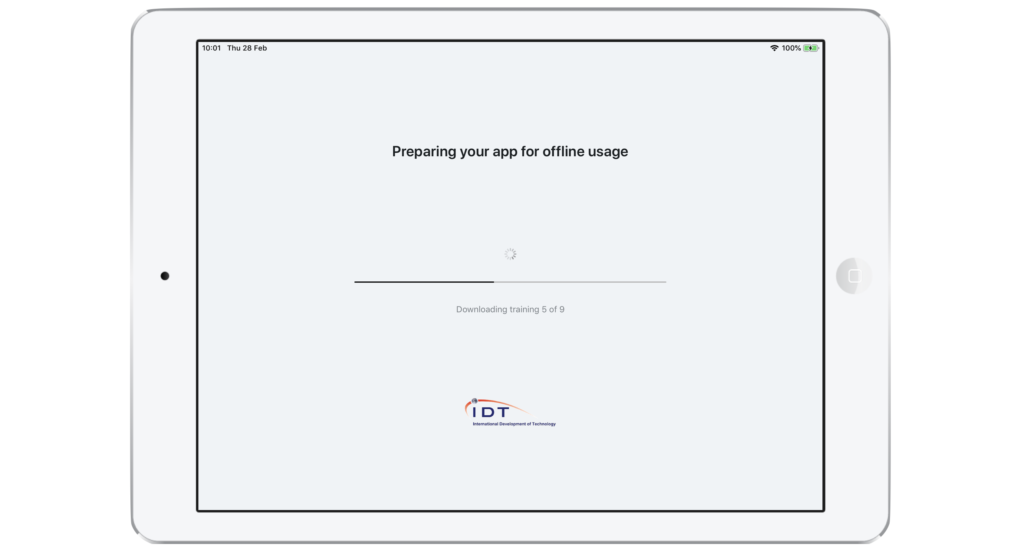 Troubleshooting
When you are downloading new updates, or content during the initial installation, it is important that you have a stable WiFi connection. If the connection is unstable or if your WiFi gets disconnected, you may receive the following error message. Please ensure you have WiFi connection and select "Retry". If you want to skip the update, you can choose "Cancel updating" and continue to use the current modules that have already been downloaded.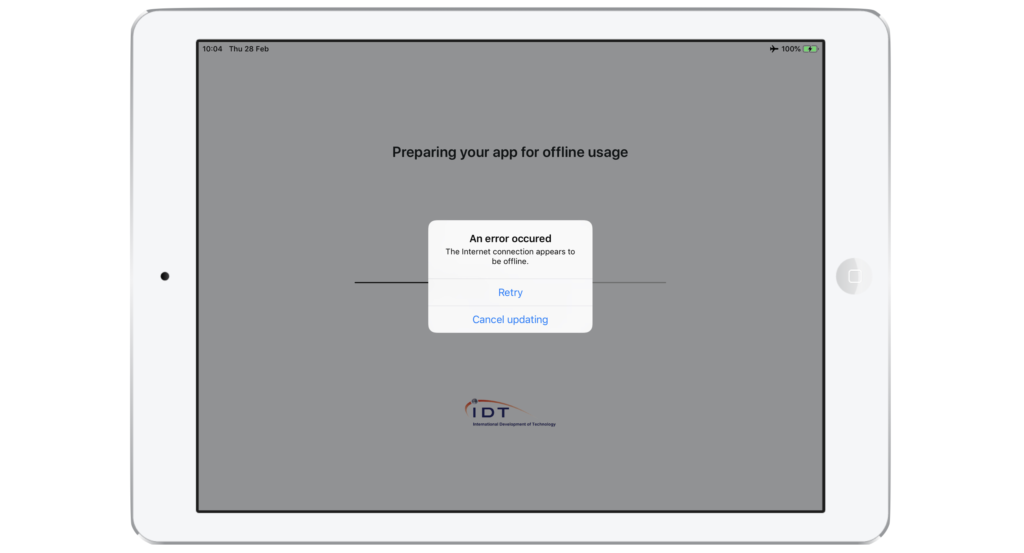 During the download process it is also important to keep the installation window active. If you switch to another application process during the download, the download may be interrupted and you will get the following error message. You can choose to continue the update or skip the update.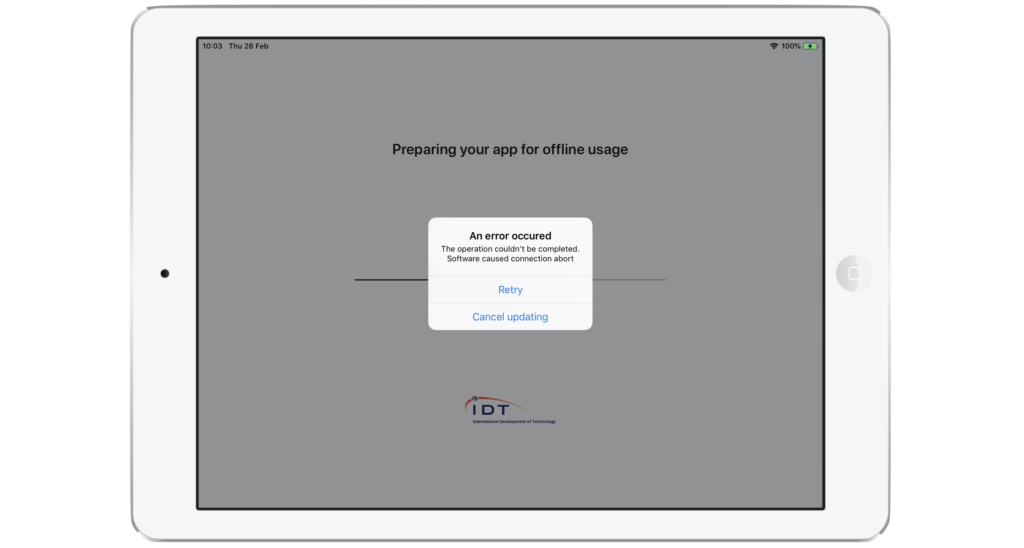 Updates
Some modules may be updated in the course of time. When a new update for one or more specific modules are available, this will be indicated when you restart the app, or it will be shown in the module thumbnail on the app main page.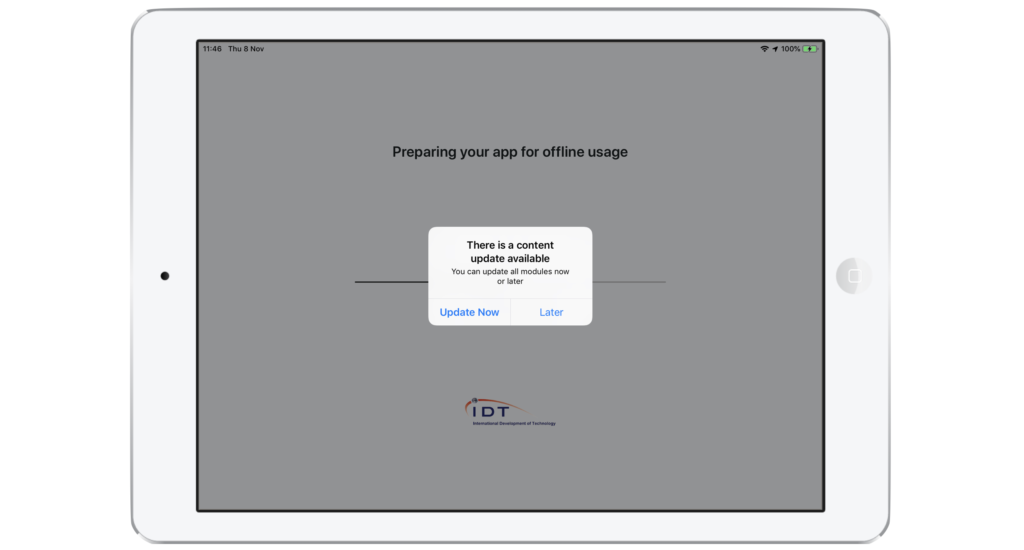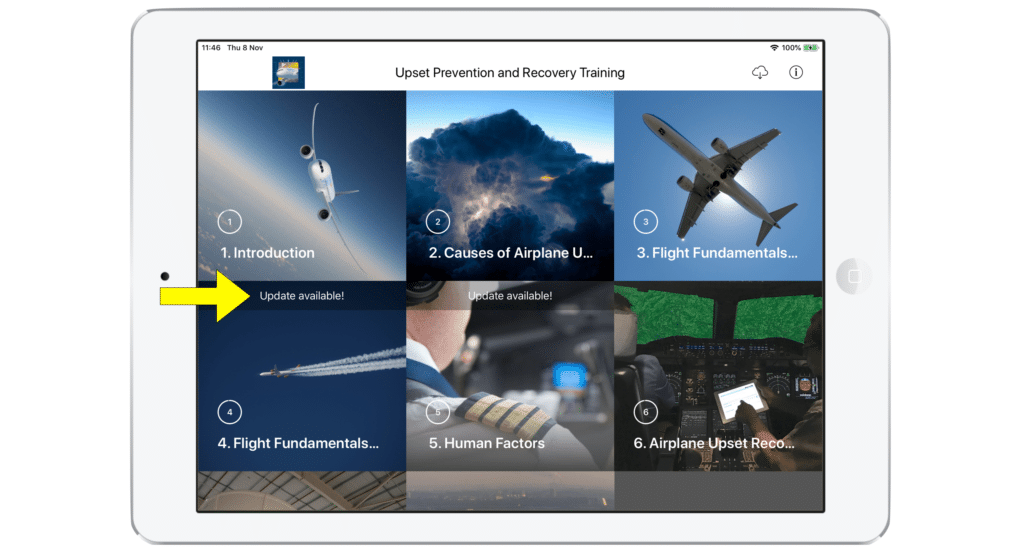 You can choose to update the module now or to update later. You can install the updates by clicking the download (cloud) icon in the top right and select one of the two options.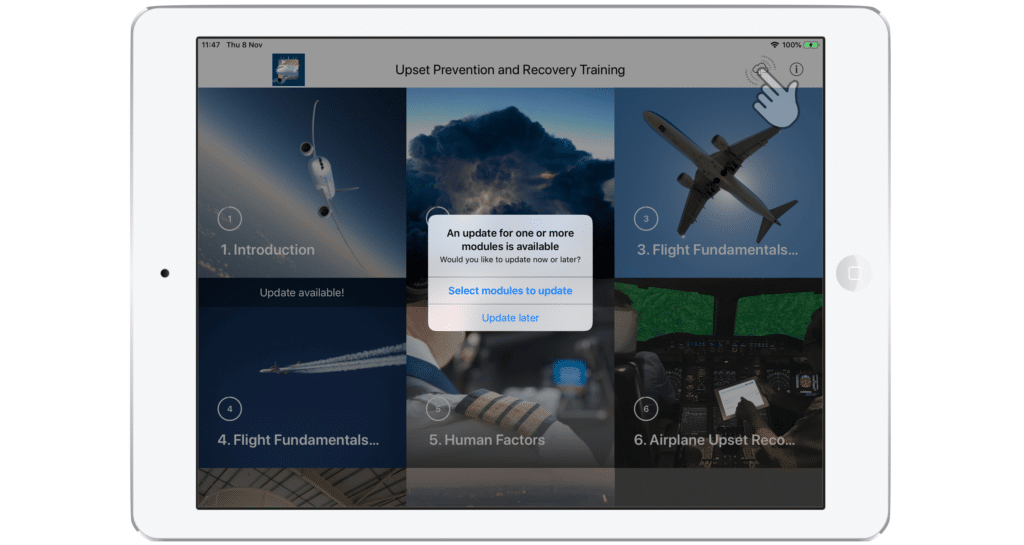 Alternatively, you can select the module for which an update is available and choose from any of the three options. If you select 'Open Module', you can access the module without updating it first. The (old) content of the module always remains available until you choose to update.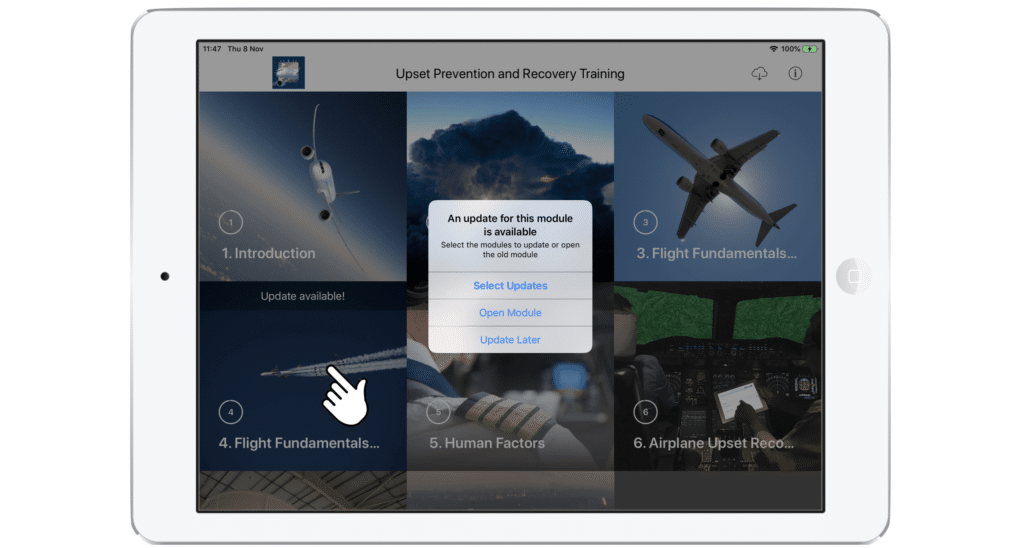 Select the modules you want to update and click 'Update' in the top right corner.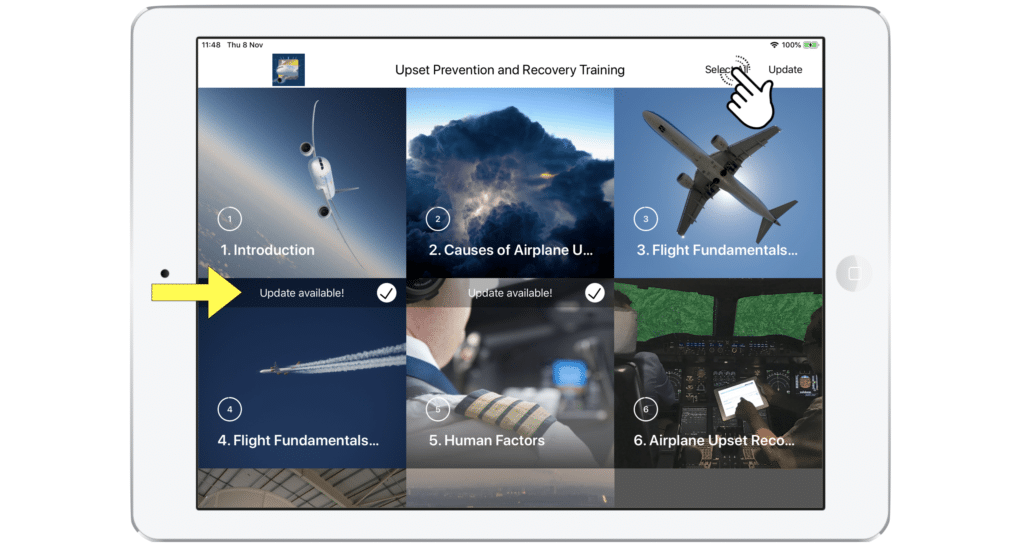 We recommend that you install any updates only when you have a stable and fast WiFi connection available. When multiple updates are available, you can select all updates to be installed at once. If you choose to update later, you can still access the current version of the module. However, we do recommend to install updates as soon as possible.
Personal Data Logging
According to your airline's privacy policy, your progress (% of pages viewed) and knowledge validation results may be logged and shared with your airline instructors and managers. Only authorised instructors and managers of your company have access to your data. In case your company privacy policy does not allow any data to be shared, your data may be anonymised or data sharing may be completely disabled. Please check with your company administrator what your company's policy is on privacy and data sharing. IDT will set the data logging options as requested by your company.
The Skypointer app uses your name and email address solely for the purpose of a unique registration and in case we need to contact you if you require technical support.
Quizzes and Exams
Some modules are concluded with a quiz. The quizzes are fully voluntary and offer the candidate the opportunity to exercise and test their knowledge. Feedback is given after answering each quiz question. The results of the quizzes are not tracked in any way.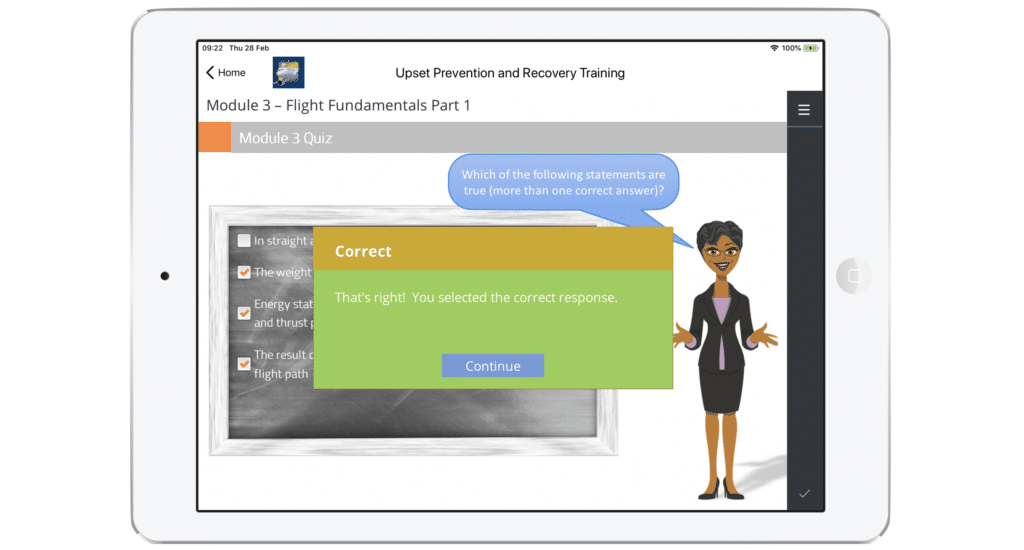 The final module consists of an exam or 'knowledge validation' as we like to call it. The final exam is a combination of questions from the quizzes in the previous modules. The knowledge validation has 25 questions and the candidate has one hour to complete the tests. When you've completed the test, your results and your company's minimum passing score will be shown in the application at the end of the test. It is possible to retake your test or review the answers of your test. Your final test score will be updated by the results of the last test that you take.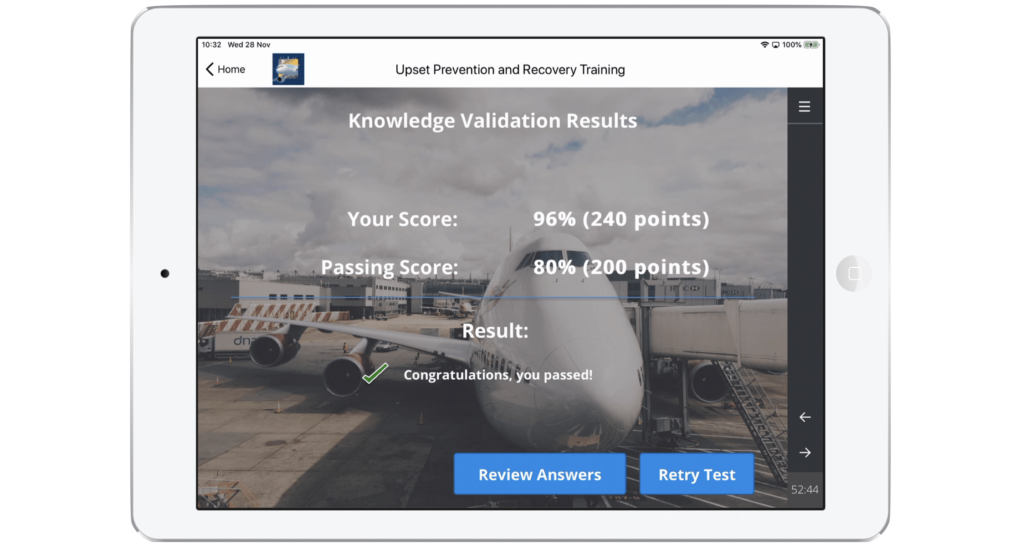 Still looking for answers?
If you continue to experience issues with the installation or updating the app, or if you have any general questions about the app, please feel free to contact us. We'd love to hear your feedback!
If you have any troubles related to your iPad hardware or IOS, please visit the Apple Support page.
If you have any trouble connecting to your company network or downloading the application through your company network (if the app is distributed through your company), please contact your airline system administrator (IT).